Baseball excellence offers high quality and efficient bats from industry leading brands like Axe bats and Anderson bats.
Axe bats offers most balanced and fastest-swinging BBCOR bat with a swing weight lighter than the leading competitor – so you can attack pitches with lightning-fast speed and laser-focused control. 3-piece, Charged Carbon construction features a variable-layer composite barrel fine-tuned for speed and power. Vibration Canceling System (VCS) deploys advanced shock-absorbing materials to reduce vibration at three points on the handle, giving you the confidence to swing fearlessly at any pitch. New Hyper Whip Composite Cap features a sleeker profile for a faster, more efficient swing. New Pro Axe Handle for speed and power – ideal for high-level power hitters who want to put the ball in the air – with a backside that offers more freedom and whip through the zone.
Endogrid technology built into the Axe Handle absorbs vibration before it reaches your bottom hand for a smoother, more comfortable swing.
Our new 2021 Techzilla -10 USSSA Baseball Bat is designed with maximum performance and durability in mind. The one-piece all aluminum design has a balanced feel and massive pop which is felt right out of the wrapper as there is no break in period necessary. Also available in drop 8 and drop 5. The 2021 Anderson Techzilla, created by players, for players.
Anderson's NanoTek bat utilizes a special Aluminum Alloy from good old USA Alcoa that adds to the bats pop and durability. This makes for a very large sweet spot. The unprecedented strength of the revolutionary NanoTek Alloy allows us to build a bat with the thinnest wall in the game. The NanoTek Alloy stores more energy at contact and delivers superior performance, improved feel and twice the effective hitting area of the competition. Unlike composites that gradually rise to a short-lived maximum potential, the NanoTek XS has no break-in period, maintaining superior performance and delivering a solid feel throughout its life. High-performance through design . . . Every component on an Anderson bat provides the player with game improvement technology. From the patented Ergonomic Knob to the Taper Flex Vibration Management System, each performance component works synergistically to improve the player's game through superior design.
Axe Bat Speed Trainers Hitting System (High School/College/BBCOR)
Unlock next-level bat speed, exit velocity, and an optimal swing plane with three Axe Bat Speed Trainers and four unique 12-week training modules designed for both in-season and out-of-season work. Engineered by the hitting coaches and data analysts at Driveline Baseball, this system utilizes over-loaded and under-loaded Axe bats to holistically enhance your swing for increased power and launch angle.
"I strongly encourage any hitter who has a desire to get better to utilize these bats along with the daily routines that go with the system." – Pat Bailey, Hitting Coach, Oregon State
"The Axe Bat Speed Trainers are a great training tool to help players create bat speed but also gain a greater understanding of grip identity in order to manipulate the barrel. These bats not only help train the body to move at a faster rate by improving functional strength, but also improve barrel awareness." – Tim Corbin, Head Coach, Vanderbilt
WHAT IT DOES:
The baseball swing is a unique movement that demands unique training – unlike traditional strength training, our overload/underload system works the entire sequence of muscles involved in a swing. Driveline's training program is fine-tuned to affect every stage of movement, delivering a better swing from start to finish.
RECOMMENDED FOR: -3 BBCOR hitters. Which means all high school and college hitters. This system will also be for 7th and 8th graders who are already swinging -3 BBCOR, or getting ready to go into high school.
BATS INCLUDED:
1 overload, handleload Axe Bat Speed Trainer, 2-5/8" barrel, with red tip (+20% overload/33"/36 oz.)
1 overload, endload Axe Bat Speed Trainer, 2-5/8" barrel, with green tip (+20% overload/33"/36 oz.)
1 underload Axe Bat Speed Trainer, 2-5/8" barrel, with blue tip (-20% underload/33"/24 oz.)
TRAINING PROGRAM INCLUDED:
4 Driveline training programs: In-season (12 weeks), Out-of-season (12 weeks), In-season Advanced (12 weeks), Out-of-season Advanced (12 weeks)
BAT FEATURES:
Patented Axe Handle
Engineered Hitting Zone Barrel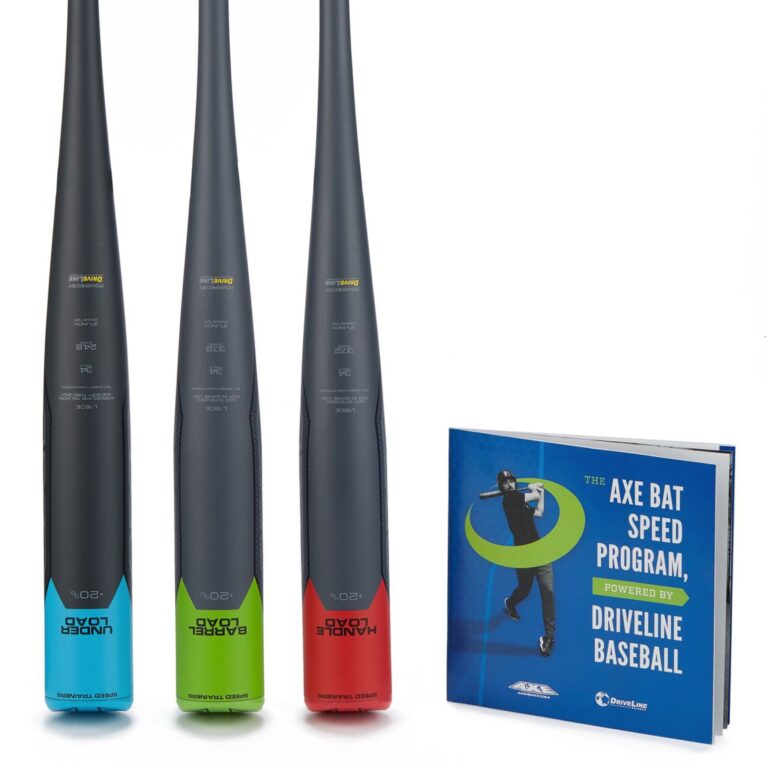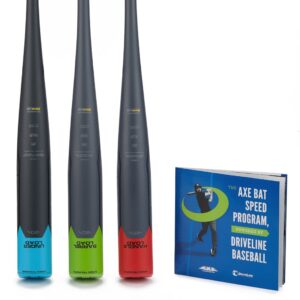 HyperWhip End Cap
Overload: One Piece Alloy
Underload: One Piece Composite
120-day warranty // Not intended for in-game use.
WHAT COLLEGE COACHES ARE SAYING:
"We have been using overload and underload training with our hitters for years to increase bat speed and barrel control. We have used virtually every overload and underload bat on the market and can say without question that the Axe Bat Speed Trainers are the best we have ever used…The Axe Bat Speed Trainers are helping us take our overload/underload training to a whole new level." – Dan Heefner, Head Coach, Dallas Baptist University
"Driveline has developed a program involving underloaded and overloaded bats that has proven to increase our hitters' performance on the field. I urge any hitters looking to reach their fullest potential to implement Driveline's equipment and routines into their own training." – Dillon Lawson, Hitting Coach, University of Missouri
"We will use any equipment that we feel will help our hitters perform. Research shows that underload/overload bats can improve bat speed. Driveline has come up with a system along with the actual bats that have proven to be a GREAT resource for our hitters. I strongly encourage any hitter who has a desire to get better to utilize the Driveline bats along with the daily routines that go with the system." – Pat Bailey, Oregon State, Hitting Coach
"When using the Axe Bat overload/underload trainers, we are able to train our guys by changing the stimulus several times over the course of a few rounds. Our guys are understanding how to move the overload bat quicker without muscling it and are surprised with how fast their bodies can move with the underload bat. Anyone who is serious about developing better movements and wants an edge in the batter's box should look into the Axe Bat Speed Trainers." – Sean Moore, Assistant Hitting Coach, University of Iowa